Would you like to contribute to shaping responsible healthcare ecosystems in Murcia, Örebro and Cyprus?
CHERRIES territorial pilots kick started last week by launching the regional calls for needs.
The needs inventory is an important part of CHERRIES project as it determines the direction of the pilots that will be launched later on.
Do you see a need that needs to be met in the regional healthcare sector? Take your chance to influence and contribute in the project!
The CHERRIES project aims to find new, innovative solutions to meet health challenges through responsible and sustainable approaches.
The CHERRIES project takes a clear bottom-up perspective when developing new solutions to meet health challenges. This means that we call organizations as well as individuals and professionals who are directly or indirectly concerned by an issue to be involved in influencing. The opportunity to describe a need is therefore open to healthcare organizations, healthcare individuals and professionals and healthcare stakeholder organizations, private individuals, persons involved in civil society and officials within, for example, the municipality or region.
Each territory has adjusted the call to its peculiarities, therefore addressing different sub-sectors and target audiences. Look at each regional call and submit your need by November 30th
CHERRIES Cyprus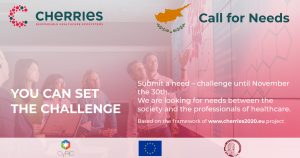 CHERRIES Murcia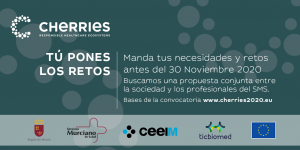 Sector: eHealth
Call Link:
Contacts: Gorka Sanchez Nanclares (Servicio Murciano de Salud): gorka.sanchez@carm.es
CHERRIES Örebro