CHERRIES is piloting a new RRI driven participatory approach to shape territorial R&I policies in the healthcare sector.
The CHERRIES Toolbox is aimed at providing European territories with relevant resources and guidance on how to build and replicate RRI experiments in their healthcare ecosystems.
On one side the Toolbox– together with other activities –  supports the design and implementation of the territorial experiments, on the other side it enables the capacity building of territorial stakeholders preparing them for the RRI based demand articulation, experimentation and co-creation process within the three regions.
Download the full CHERRIES toolbox here: D3.1 RRI & Experiment Toolbox.
The tools and resources of the two parts of the toolbox will be directly available on the website too.
RRI in Healthcare
Are you interested in discovering available resources and best practices in RRI in healthcare sector?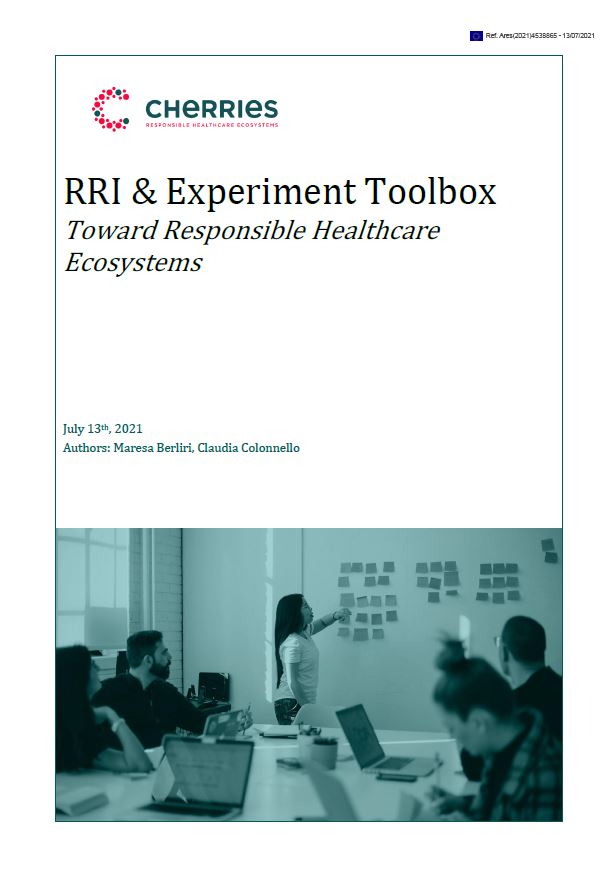 Download Report
This area of the toolbox presents a set of RRI tools that enable stakeholders and territorial partners to successfully implement the experiments. This knowledge base contains promising practices for adapting RRI based routines in and between organisations. Based on a screening and selection of promising practises, the toolbox will incorporate existing resources from EU-funded as well as national-funded projects and activities on the RRI, RIS3 and healthcare interface
Pilot toolkit
Are you considering replicating the CHERRIES methodology in your region?
This area of the toolbox provides practical information and guides, helping territorial partner organisations and stakeholders to conduct the experiments.
Section A
Framing (and setting) the scene for RRI and demand-driven innovation pilots in health
Section A1
Mapping territorial ecosystems
Section A2
Actors' mapping and analysis
Section A3
Partnerships and territorial coalitions
Section A4
How to start the process
Section B
Making the process of need identification in health more open, inclusive and responsive to territorial/societal challenges
Section B1
Demand-driven and user-led/people-centric/open innovation approaches in healthcare
Section B2
Participatory approaches and methods for patients and multi-stakeholder stakeholders engagement for research agenda setting in health
Section B3
Call for needs, Call for challenges, Open Innovation Calls in health
Section C
Co-creation for the inclusion of social value in design, development and test of responsible Innovation solutions in health
Section C1
Call for solution for addressing needs and challenges
Section C2
The engagement of patients, citizens and public in innovation and research
Section C3
Engagement and mobilisation of stakeholders in research and innovation activities
Section C4
Co-creation of the solution
Section C5
Legal, Ethical and Privacy requirements in co-creation research and innovation
Section D
Adoption, Implementation and Deployment of Innovation Solutions
Section D1
Solution Implementation
Section D2
RRI and Responsible Innovation in practice
Section D3
Pre-commercial procurement: a possible way for innovation to market access
Section D4
Commercialisation
Section E
Establishing practices and methods for evaluation
Section E1
Assessment of the embedment of RRI
Section E2
Assessment of Gender equality in organizations
Section E3
Impact assessment and sustainability