EIT Health is Calling Europe's innovators to revolutionise eye and vision care, and pain management – apply now to Wild Card 2021 at wildcard.eithealth.eu
The annual call is open to innovators who want to change the course of their future and ours. Wild Card provides world-class training and mentoring, and the opportunity to create a venture with up to €1.5 million investment (grant-for-option).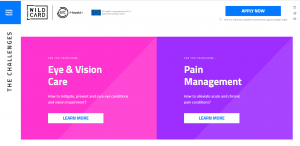 This year, EIT Health challenges you to find solutions that can address barriers to advancing eye and vision care and pain management.
Teams and individuals applied with solutions already, game-changing ideas or simply with their unique expertise needed to create a transformative start-up.
The two chosen ventures will embed themselves in a Wild Card incubator of their choosing in Europe. Wild Card is not just a project, teams will need to relocate and focus full-time on building their new start-up with support from EIT Health, the largest healthcare network in Europe.
The first step is filling in the online application form before March 16th, which comprises a written submission and a three-minute video. You can apply as a small team (max. five people) with an idea, or an entrepreneur with a business idea or entrepreneur seeking business opportunity.
Submissions will be reviewed by qualified, independent experts in the field who will assess your level of knowledge and skills in the challenge area and in case of proposals with the solution – its viability. Candidates shortlisted will be invited to the interview stage. Interviewees will find out if they have been successful by 10 May 2021.
articipation in Wild Card programme will require commitment. Throughout subsequent stages of the programme, you will meet new people and will be trained and coached by multiple high-level experts. You should be able to dedicate:
up to 8 days in Deep Dive stage (June-July 2021)
up to 4 days plus approx. 10h/week in Business Model Validation (September-October 2021)
EIT Health expects that founders selected for investment will dedicate their full working capacity to the development of the start-up as of January 2022.